Speed up the inventory process with your smartphone
Take inventory of everything from building materials to furnishings with Palats' streamlined inventory tool.
Your one and only
inventory tool
With Palats, you always have what you need to take inventory. Avoid unnecessary prints and lost documents. Just open the app, add the building (and floor plan, if you want) and start taking inventory.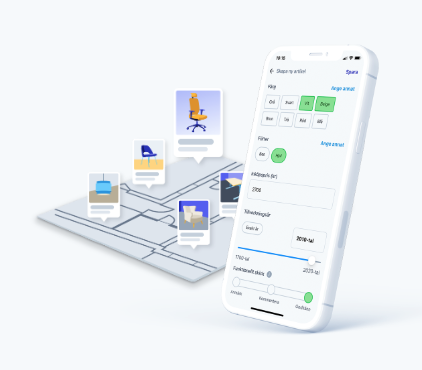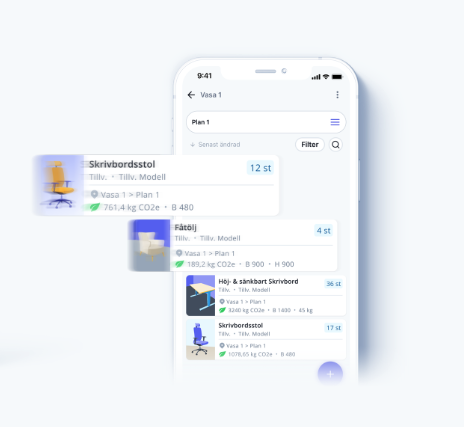 Work smarter together
Create a digital overview that makes it easy to see the products that are already digitalized and which products are left to take inventory of. In this way, it is possible to avoid constantly having to make reconciliations, that something is missed or that you take inventory of the same product twice. If, on the other hand, there is no connection, Palats works just as well offline and all collected information is uploaded as soon as you get connected again.
Speed up your inventory process
With an interface made for taking inventory, the collection of information becomes a lot more efficient. Take pictures, notes and mark the position on a floorplan without having to change between different tools. Within each product category, there are predefined choices to help you keep the information relevant, consistent and searchable.
High-quality deliverables at the touch of a button
Forget manual compilations and unnecessary duplication. With Palats you can deliver high-quality material with one push of a button when the inventory process is finalized. The products you have digitalized are also automatically linked to climate data to display the potential environmental savings. Invite the customer and let them take part of the information in a clear and interactive way via Palats web interface or export the information to excel.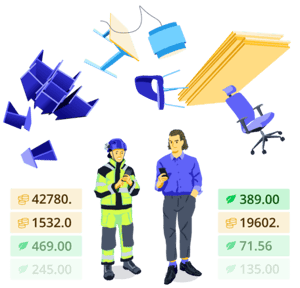 Create long term relationships
Products that are digitized in Palats continues to generate value even after the project is completed. By introducing your customer to Palats they can use the information you gathered in their asset management and maintenance. This also opens up a unique opportunity for you to keep providing services linked to all of their future needs. By doing so, both of you avoid duplication of work, you create more business and your customer gets a smooth experience.
Amount of waste generated
By the Swedish construction- and real estate industry, since you opened this page
It's time to tackle resource consumption
The best time to start reusing was yesterday, the second best time is today.